Who can forget the over-the-top, white-on-white, high-gloss interiors through which Fred Astaire danced in Top Hat? The modernist high-rise architecture, inspired by the work of Frank Lloyd Wright, in the adaptation of Ayn Rand's The Fountainhead? The lavish, opulent drawing rooms in Martin Scorsese's The Age of Innocence? Or the trend-setting Hamptons beach house of Something's Gotta Give? Through the use of film design-- called both art direction and production design in the film industry --movies can transport us to new worlds of luxury, highlight the ornament of the everyday, offer a vision of the future, or evoke the realities of a distant era.
In Designs on Film (Harper Collins) journalist Cathy Whitlock illuminates the often under-celebrated role of the production designer in the creation of the most memorable moments in film history. Through a lush collection of rare archival photographs, Whitlock narrates the evolving story of art direction over the course of a century - from the massive Roman architecture of Cleopatra to Mrs. Robinson's lair in The Graduate to the digital CGI wonders of Avatar's Pandora.
Drawing on insights from the most prominent Hollywood production designers and the historical knowledge of the venerable Art Directors Guild, Whitlock delves into the detailed process of how sets are imagined, drawn, built and decorated. Designs on Film is the must-have book for film lovers, movie buffs and anyone looking to draw interior design inspirations from the construction and confections of Hollywood. The author lifts the curtain on movie magic and celebrates the many ways in which the art direction and set design allow us to lose ourselves in the diverse worlds showcased on the screen.
Designs on Film can be purchased on Amazon.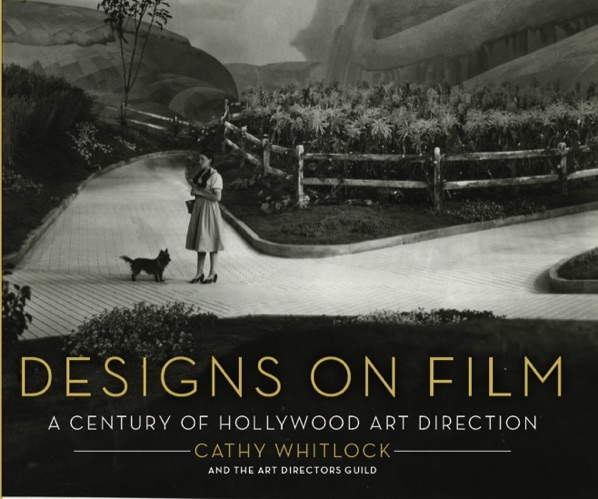 re-de-sign: New Directions for Your Interior Design Career by author and designer Cathy Whitlock surveys the field of interior design, providing a look at the newly expanded role of the interior designer and offering an array of career alternatives from the tried and true areas of residential and contract to specialty and entertainment design.
Whether branching into areas as traditional as product and furniture design to the new trends of lifestyle branding and internet merchandising, the book covers the many challenging and diverse career choices for those considering a career in design as well as the established designer who wants to take their professional practice to new heights.
Martha Stewart, Nina Campbell, Michael Graves, Alexa Hampton, Kelly Wearstler, Jonathan Adler, Vicente Wolf and Mitchell Gold + Bob Williams are just a few of the luminaries and companies profiled. The book's foreword is by Sherri Donghia.
re-de-sign is available for purchase on Amazon.
Photo credits: Harper Collins and Photofest/MGM and Fairchild Books/ Frank de Biasi Interiors. Copyright Cathy Whitlock 2019. All rights reserved.